CLICK HERE
FOR TWIST-A-CAROL
PUBLICITY PHOTOS!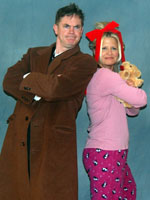 Featuring:
Cathleen Ann
Nancy Braus
Bill Boggs
Debbi Dennison
Rich Geiger
Geoffrey Maher
Cheryl Rice
Lori Rohr
David Soria
Katie Monahan Soria


past vex...

Vex Theatre Company proudly presents:
Twist-a-Carol IV: Dr. Whoville



An ALL NEW holiday extravaganza of sketches and songs. Come and laugh with us and forget your cares this holiday season. It's a holiday tradition that's totally twisted!

Featuring the plays:
Hands Off! by Debbi Dennison
Castle by Cathleen Ann
The Christmas Letter by Cheryl Rice
Stiff Upper Lip by Rich Geiger
Tinsel and Trim by Cathleen Ann
Seasoned Perfection by Debbi Dennison
Dr. Whoville by Cathleen Ann

Four shows only! New Saturday matinee added!

Friday, December 6 at 8:00pm
Saturday, December 7 at 4:00pm and 8:00pm
Sunday, December 8 at 4:00pm
At The Elgin Art Showcase, 164 Division Street, 8th Floor, Elgin

Twist-a-Carol is proudly sponsored by the Elgin Cultural Arts Commission.